Best family villas Barbados
BEST FAMILY VILLAS BARBADOS

Barbados is a fabulous place for families to holiday. There is so much going on. Swimming with turtles, a day on a catamaran, a visit to the Animal Flower Cave or maybe the Animal Wildlife Reserve. You can even expore what lies beneath the ocean in a submarine at night! You and your family will never tire of the endless activities on offer.
Families often prefer to be in a villa. They like the peace and seclusion on offer and, of course, the benefit of their own kitchen. We can offer the best family villas Barbados.
Most of the villas in Barbados come with a cook and a housekeeper so you and your family can enjoy all of these benefits without having to worry about cooking and cleaning up after yourselves.
Here are a few of our best family villas Barbados.
DUDLEY WOOD
Dudley Wood is a beautiful family home located on the very popular Gibbes Beach. It is a firm favourite with guests. Dudley Wood is a 4 bedroom chalet style beach house. Three of the air-conditioned bedrooms are doubles with en- suite bathrooms. The fourth bedroom is a single room. Dudley wood is built of bleached timber with a shingle roof. It has a cosy and unique rustic ambiance.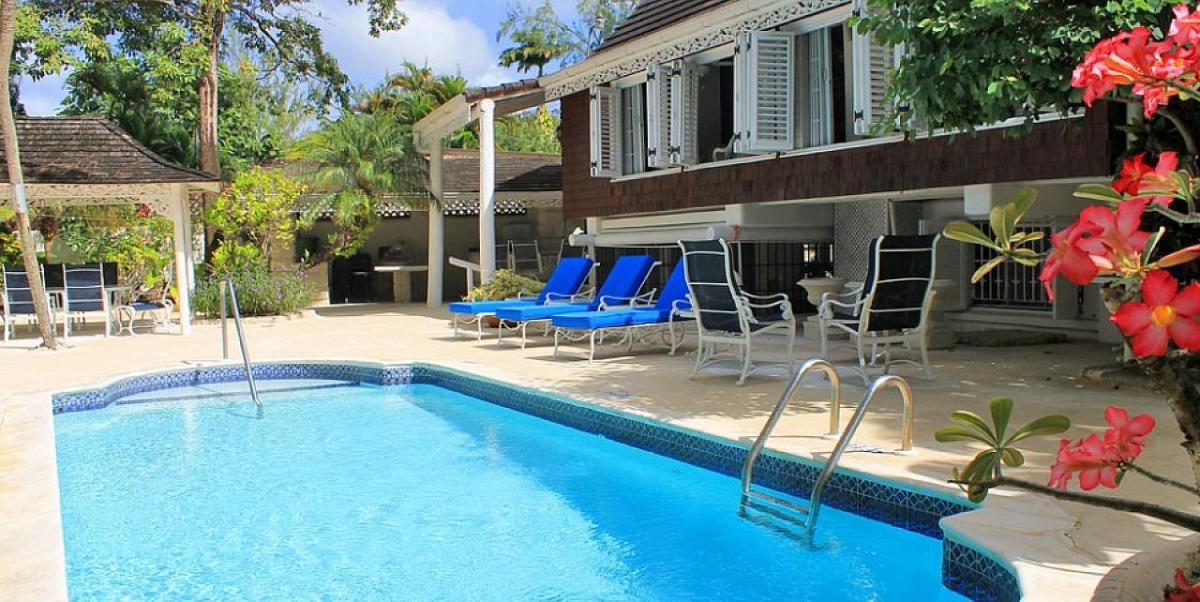 This lovely home has wooden floors, walls and exposed pickled pine ceilings. An informal sitting area with Cable TV and DVD has been recently re-decorated to provide laid-back comfort.
Towards the beach are large picture windows, and shutters that open to provide excellent pool and sea views. Child safety bars have been installed for use as required.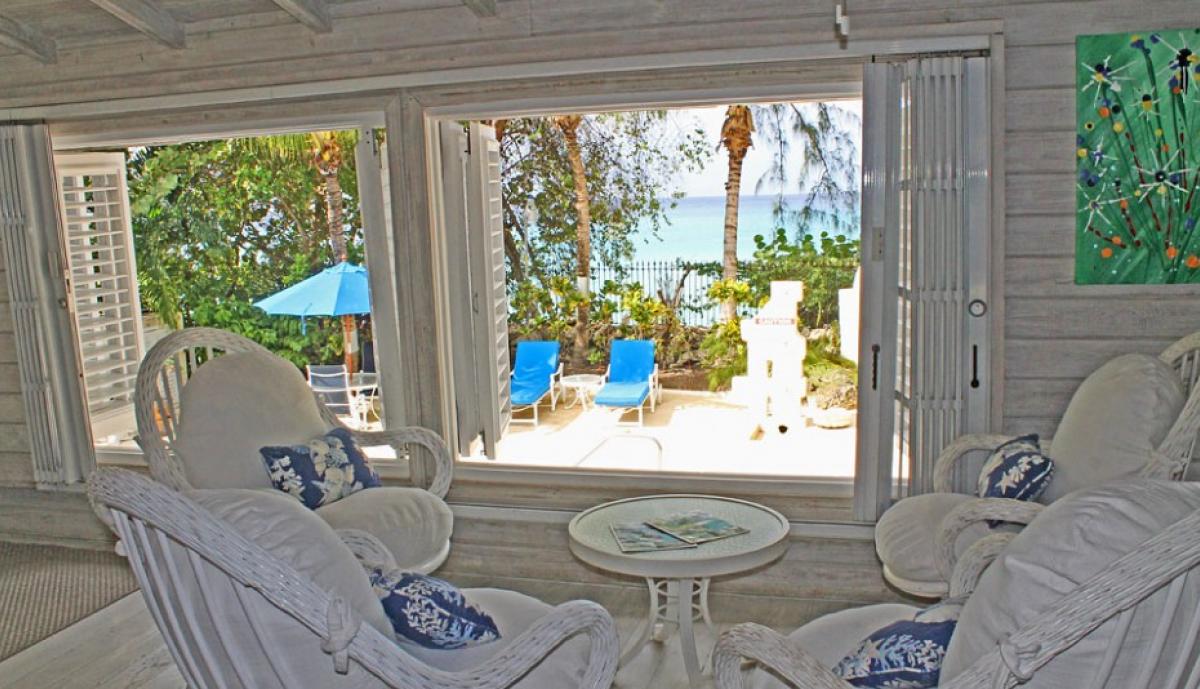 Two of the bedrooms are located off the sitting room. A spiral staircase connects the floors and leads up to a charming third bedroom with king size bed. This is located in the loft space. This has an en suite bathroom with shower. All bedrooms are comfortably furnished with air-conditioning.
The spiral staircase also leads downstairs to a well equipped kitchen with a small dining alcove. The fourth bedroom also an en suite bathroom (note this bedroom is suitable for single occupancy only). A door leads out to the enclosed garden, which is surrounded by mature trees, providing shade and privacy.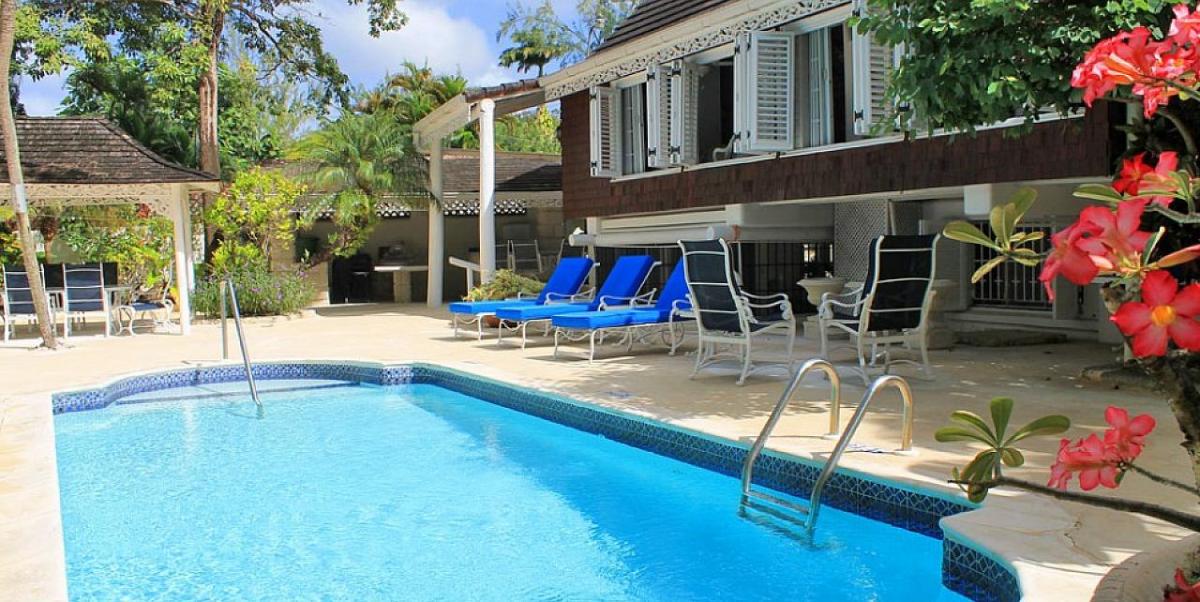 There is a good size swimming pool and deck with sun loungers. Adjacent to the pool and deck is an alfresco dining area with a gazebo and another covered area features a built-in coral stone bar and a barbecue.
A gorgeous stretch of beach is just a few steps away. You access it through an arched gateway. There is a wall mounted shower for rinsing off.
Gibbes is one of the most beautiful beaches on the island with crystal blue water that is excellent for swimming.
Dudley Wood rents from US$875 per night (US$6,125 per week) to US$1,500 per night (US$10,500 per week) except over the Christmas and new year festive season when the rate is US$2,300 per night (US$16,10Bluff House Barbados is a luxurious 6 bedroom villa for rent in Barbados and is set within lush tropical gardens just steps away from the beautiful Sandy Lane beach.
For more information on Dudley Wood click here.
BLUFF HOUSE
Bluff House is a beautiful 6 double bedroom coral stone beach front house. It can be rented alone or with a separate 2 bedroom cottage, Bluff Cottage. It is located close to the popular Sandy Lane beach with access through the property's own private path. Sun loungers are provided for guests on the beach.

You will enter Bluff House via a gated intercom entrance. The main house features an impressive coral stone hallway.
It is a wonderful house for entertaining with glorious views over the Caribbean Sea. The magical lighting in the evening creates a romantic ambiance.
Bluff House Barbados has a formal indoor dining area with a beautiful coral stone dining table as the centrepiece. More informal dining can be enjoyed on the covered terrace which has wonderful views of the gardens.
There are six stylishly decorated double air-conditioned bedrooms, each with en-suite bathroom. The magnificent master bedroom upstairs has a spacious terrace and views of the garden and the sea beyond. The other bedrooms of this villa for rent in Barbados open directly onto the grounds.
• Master Bed 1 (Upstairs) - King Bed
• Master Bed 2 (Downstairs) - King Bed
• Bedroom 3 - King Bed
• Bedroom 4 - Twins (Can be put together)
• Bedroom 5 - King Bed
• Bedroom 6 - Twins (Can be put together)
Guests staying at Bluff House Barbados are within easy reach of the many amenities on the West Coast. It is less than a ten minute drive from Holetown.
Bluff House Barbados offers 6 bedrooms but for larger parties it can be rented with the separate 2 bedroom Bluff Cottage
Bluff House rents from US$2,300 per night (US$16,100 per week) to US$4,000 (US$28,000 per week) depending on time of year.
For more information on Bluff House click here.
For information on Bluff Cottage click here.
If you are not necessarily looking for vacation homes on the beach take a look at barbadosdreamvillas.com for best family villas Barbados. We have properties on ridges with views and vacation rental homes with private gardens just a few minutes walk from the beach. We also have homes to rent in some of the most sought after resorts including Royal Westmoreland and Sugar Hill.
If you want to rent in Sandy Lane we have some of the best family villas Barbados there. Take a look at Sandylanevillas.com to see what is available.