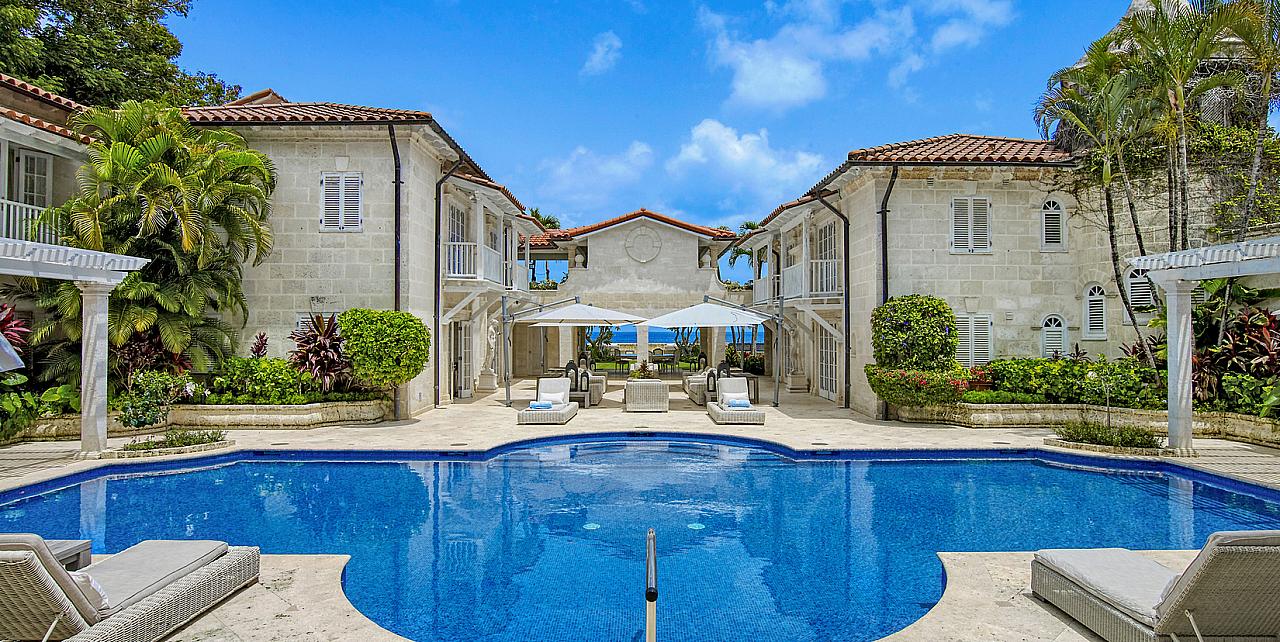 Add to Favourites
From $5,000 USD - $22,000 USD / nt
Plan Your Trip
HAVE QUESTIONS?
USA/CANADA: +1 347 707 1195
BARBADOS: +246-432-6307
UK / INTERNATIONAL: +44 1978 368531
From $5,000 USD - $22,000 USD / nt
We love this villa because...
it is in a wonderful location right on the beach yet just a few minutes from Holetown. It sits in its own private gardens with private pool and has wonderful sea views.
Bachelor Hall, Barbados is an impressive 7 bedroom, beachfront/waterfront estate. It extends over 3 acres and is located on the Platinum West Coast.
Relaxation and ultimate privacy are key features for this iconic villa.
Bachelor Hall offers a master bedroom fit for royalty, and two newly renovated suites with en-suite bathrooms. The interior décor is influenced by a combination of vintage and stylishly chic. You can enjoy dining in breezy open-air spaces.
Arrive at this luxurious villa via a private entrance. You will be whisked along a winding driveway through the majestic gardens. Pass tall swaying palm trees to the welcoming staff who will greet you.
The expanse and space of Bachelor Hall is ideal to accommodate large groups or families. This is a wonderful villa where you will enjoy exceptional service.
For extra charm to this already magical property, there are two open-air courtyards with Koi-filled ponds. Adjacent to the courtyard, is a large drawing-room that has a wraparound terrace and a bar. This is the perfect spot to sip your favourite sunset cocktail on the terrace whilst taking in the views of the gardens and the ocean beyond.
There is also a private office.
To reach the private pool at Bachelor Hall you take a stroll through the sea-facing gardens or the indoor hallways.
Bachelor Hall - Ground Floor
The lounge area near the pool has seating for over 15 people. It also has a dining area enjoying pool or garden views. The 2 ground floor suites are positioned near the kitchen offering quality finishes and all required comforts. These would work well for extended family members or children as the 2nd bedroom can be connecting.
The garden suite has double vanity, bath and separate bathroom with a bidet, standing shower and walk-in closet. There is a private terrace and easy access to the pool or grounds.
The modern kitchen is where the chef prepares local and international dishes, all catered to guests dietary needs. The kitchen is also equipped for entertaining. There are three separate fridges and freezers and a standing wine cooler. To complete the ground floor, it is steps away from the spa or the fully equipped gym.
Bachelor Hall - First Floor
An elevator or an elegant staircase provides access the first floor. Here you will find three suites including the luxury world of the master suite.
There is an oceanfront breakfast terrace that connects the opulent master and the oceanfront suite. A super king-sized bed with sea views, high-back wing-chair, matching chaise lounge and armchairs echoes the elegance of the Bachelor Hall style. There is also writing desk.
Nearby is a comfortably furnished lounge with TV and a separate entrance to the sea-facing patio with lounge seating.
The master has oversized walk-in closets and an adjoining his and hers bathroom. The tiled en suite bathroom features a unique skyscape and pristine marble countertops. Next to the master suite is the second bedroom offering views over the pool. The third bedroom on the other side of the master suite has a cosy balcony overlooking the pool. It also has an intimate terrace perfect for watching the sunsets.
Tucked between the master bedroom and the third bedroom is the dining terrace.
The final two newly renovated bedrooms are located above the gym. These overlook the pool with beautiful sea views.
Each bedroom has en suite bathrooms, fans, air conditioning and flat-screen TVs.
Master Bedroom - King - En-suite with Bath and Shower - Double Vanity -
Bedroom 2 – King – En-suite Shower - Double Vanity -
Bedroom 3 – King – En-suite - Bath – Shower - Double Vanity
Bedroom 4 – King - En-suite – Shower
Bedroom 5 - Twin beds – En-suite – Bath – Shower – Bidet - Single Vanity
Bedroom 6 – King – En-suite – Shower
Bedroom 7 – King – En-suite - Shower
Bachelor Hall is considered to be one of the finest Barbados rental villas. A place to savour uninterrupted views of the Caribbean Sea whist your personal chef tempts you with delicious dishes prepared on the Teppanyaki bar.
Bachelor Hall is not too far away from La Baguette, offering the most delectable French pastries in Barbados. Holetown is a short drive away to explore designer shopping at Lime Grove, fine dining restaurants, beach restaurants along with golf and tennis.
Bachelor Hall can be rented as 6 or 5 bedrooms depending on the party size.
If you are interested in renting Bachelor Hall in Barbados contact us today
For other luxury villa holidays in Barbados visit barbadosdreamvillas.com
For long term rentals in Barbados visit longtermrentalsbarbados.com
For properties to buy in Barbados visit barbadosdreamproperties.com
See more details...
Amenities
Air Conditioned bedrooms
Bar
BBQ
Beach Front
Cable TV
Car Parking on site
Ceiling Fans
Children Welcome
Gym/Fitness Room
Internet Access
Private Pool
Safe
Sea view
Staffed Villa
TV
Waterfront
Wireless Internet
See more details...
Bedroom : 5 - 7
Bathroom : 5 - 7
Staff
• Kitchen Assistant
• Housekeeper/Laundress
• Laundress - Service provided 3 days a week
• Butler
• Chef
Rate
Bedrooms: 5 Bedrooms

| From | To | Min Stay | Nightly Rate | Weekly Rate |
| --- | --- | --- | --- | --- |
| 16-Apr-2023 | 14-Dec-2023 | 5 | $5,000 USD | $35,000 USD |
| 15-Dec-2023 | 16-Dec-2023 | 5 | $6,500 USD | $45,500 USD |
| 09-Jan-2024 | 15-Apr-2024 | 5 | $6,500 USD | $45,500 USD |
Bedrooms: 7 Bedrooms

| From | To | Min Stay | Nightly Rate | Weekly Rate |
| --- | --- | --- | --- | --- |
| 16-Apr-2023 | 14-Dec-2023 | 5 | $6,500 USD | $45,500 USD |
| 15-Dec-2023 | 16-Dec-2023 | 5 | $9,000 USD | $63,000 USD |
| 17-Dec-2023 | 08-Jan-2024 | 14 | $22,000 USD | $154,000 USD |
| 09-Jan-2024 | 15-Apr-2024 | 5 | $9,000 USD | $63,000 USD |
Rental rates are subject to 10.00 % TAX plus 1.50 % service charge.
Rates, taxes and service charges are subject to change without notice.
Christmas and New Year rates may vary and will be advised at the time of enquiry.
Availability
(Please use as a guide only as availability is subject to change)
June , 2023
| Sun | Mon | Tue | Wed | Thu | Fri | Sat |
| --- | --- | --- | --- | --- | --- | --- |
| | | | | 01 | 02 | 03 |
| 04 | 05 | 06 | 07 | 08 | 09 | 10 |
| 11 | 12 | 13 | 14 | 15 | 16 | 17 |
| 18 | 19 | 20 | 21 | 22 | 23 | 24 |
| 25 | 26 | 27 | 28 | 29 | 30 | |
July , 2023
Sun
Mon
Tue
Wed
Thu
Fri
Sat
01
02
03
04
05
06
07
08
09
10
11
12
13
14
15
16
17
18
19
20
21
22
23
24
25
26
27
28
29
30
31
August , 2023
| Sun | Mon | Tue | Wed | Thu | Fri | Sat |
| --- | --- | --- | --- | --- | --- | --- |
| | | 01 | 02 | 03 | 04 | 05 |
| 06 | 07 | 08 | 09 | 10 | 11 | 12 |
| 13 | 14 | 15 | 16 | 17 | 18 | 19 |
| 20 | 21 | 22 | 23 | 24 | 25 | 26 |
| 27 | 28 | 29 | 30 | 31 | | |
September , 2023
| Sun | Mon | Tue | Wed | Thu | Fri | Sat |
| --- | --- | --- | --- | --- | --- | --- |
| | | | | | 01 | 02 |
| 03 | 04 | 05 | 06 | 07 | 08 | 09 |
| 10 | 11 | 12 | 13 | 14 | 15 | 16 |
| 17 | 18 | 19 | 20 | 21 | 22 | 23 |
| 24 | 25 | 26 | 27 | 28 | 29 | 30 |
October , 2023
| Sun | Mon | Tue | Wed | Thu | Fri | Sat |
| --- | --- | --- | --- | --- | --- | --- |
| 01 | 02 | 03 | 04 | 05 | 06 | 07 |
| 08 | 09 | 10 | 11 | 12 | 13 | 14 |
| 15 | 16 | 17 | 18 | 19 | 20 | 21 |
| 22 | 23 | 24 | 25 | 26 | 27 | 28 |
| 29 | 30 | 31 | | | | |
November , 2023
| Sun | Mon | Tue | Wed | Thu | Fri | Sat |
| --- | --- | --- | --- | --- | --- | --- |
| | | | 01 | 02 | 03 | 04 |
| 05 | 06 | 07 | 08 | 09 | 10 | 11 |
| 12 | 13 | 14 | 15 | 16 | 17 | 18 |
| 19 | 20 | 21 | 22 | 23 | 24 | 25 |
| 26 | 27 | 28 | 29 | 30 | | |
December , 2023
| Sun | Mon | Tue | Wed | Thu | Fri | Sat |
| --- | --- | --- | --- | --- | --- | --- |
| | | | | | 01 | 02 |
| 03 | 04 | 05 | 06 | 07 | 08 | 09 |
| 10 | 11 | 12 | 13 | 14 | 15 | 16 |
| 17 | 18 | 19 | 20 | 21 | 22 | 23 |
| 24 | 25 | 26 | 27 | 28 | 29 | 30 |
| 31 | | | | | | |
January , 2024
| Sun | Mon | Tue | Wed | Thu | Fri | Sat |
| --- | --- | --- | --- | --- | --- | --- |
| | 01 | 02 | 03 | 04 | 05 | 06 |
| 07 | 08 | 09 | 10 | 11 | 12 | 13 |
| 14 | 15 | 16 | 17 | 18 | 19 | 20 |
| 21 | 22 | 23 | 24 | 25 | 26 | 27 |
| 28 | 29 | 30 | 31 | | | |
February , 2024
| Sun | Mon | Tue | Wed | Thu | Fri | Sat |
| --- | --- | --- | --- | --- | --- | --- |
| | | | | 01 | 02 | 03 |
| 04 | 05 | 06 | 07 | 08 | 09 | 10 |
| 11 | 12 | 13 | 14 | 15 | 16 | 17 |
| 18 | 19 | 20 | 21 | 22 | 23 | 24 |
| 25 | 26 | 27 | 28 | 29 | | |
March , 2024
| Sun | Mon | Tue | Wed | Thu | Fri | Sat |
| --- | --- | --- | --- | --- | --- | --- |
| | | | | | 01 | 02 |
| 03 | 04 | 05 | 06 | 07 | 08 | 09 |
| 10 | 11 | 12 | 13 | 14 | 15 | 16 |
| 17 | 18 | 19 | 20 | 21 | 22 | 23 |
| 24 | 25 | 26 | 27 | 28 | 29 | 30 |
| 31 | | | | | | |
April , 2024
| Sun | Mon | Tue | Wed | Thu | Fri | Sat |
| --- | --- | --- | --- | --- | --- | --- |
| | 01 | 02 | 03 | 04 | 05 | 06 |
| 07 | 08 | 09 | 10 | 11 | 12 | 13 |
| 14 | 15 | 16 | 17 | 18 | 19 | 20 |
| 21 | 22 | 23 | 24 | 25 | 26 | 27 |
| 28 | 29 | 30 | | | | |
May , 2024
| Sun | Mon | Tue | Wed | Thu | Fri | Sat |
| --- | --- | --- | --- | --- | --- | --- |
| | | | 01 | 02 | 03 | 04 |
| 05 | 06 | 07 | 08 | 09 | 10 | 11 |
| 12 | 13 | 14 | 15 | 16 | 17 | 18 |
| 19 | 20 | 21 | 22 | 23 | 24 | 25 |
| 26 | 27 | 28 | 29 | 30 | 31 | |
June , 2024
| Sun | Mon | Tue | Wed | Thu | Fri | Sat |
| --- | --- | --- | --- | --- | --- | --- |
| | | | | | | 01 |
| 02 | 03 | 04 | 05 | 06 | 07 | 08 |
| 09 | 10 | 11 | 12 | 13 | 14 | 15 |
| 16 | 17 | 18 | 19 | 20 | 21 | 22 |
| 23 | 24 | 25 | 26 | 27 | 28 | 29 |
| 30 | | | | | | |
July , 2024
| Sun | Mon | Tue | Wed | Thu | Fri | Sat |
| --- | --- | --- | --- | --- | --- | --- |
| | 01 | 02 | 03 | 04 | 05 | 06 |
| 07 | 08 | 09 | 10 | 11 | 12 | 13 |
| 14 | 15 | 16 | 17 | 18 | 19 | 20 |
| 21 | 22 | 23 | 24 | 25 | 26 | 27 |
| 28 | 29 | 30 | 31 | | | |
August , 2024
| Sun | Mon | Tue | Wed | Thu | Fri | Sat |
| --- | --- | --- | --- | --- | --- | --- |
| | | | | 01 | 02 | 03 |
| 04 | 05 | 06 | 07 | 08 | 09 | 10 |
| 11 | 12 | 13 | 14 | 15 | 16 | 17 |
| 18 | 19 | 20 | 21 | 22 | 23 | 24 |
| 25 | 26 | 27 | 28 | 29 | 30 | 31 |
September , 2024
Sun
Mon
Tue
Wed
Thu
Fri
Sat
01
02
03
04
05
06
07
08
09
10
11
12
13
14
15
16
17
18
19
20
21
22
23
24
25
26
27
28
29
30
October , 2024
| Sun | Mon | Tue | Wed | Thu | Fri | Sat |
| --- | --- | --- | --- | --- | --- | --- |
| | | 01 | 02 | 03 | 04 | 05 |
| 06 | 07 | 08 | 09 | 10 | 11 | 12 |
| 13 | 14 | 15 | 16 | 17 | 18 | 19 |
| 20 | 21 | 22 | 23 | 24 | 25 | 26 |
| 27 | 28 | 29 | 30 | 31 | | |
November , 2024
| Sun | Mon | Tue | Wed | Thu | Fri | Sat |
| --- | --- | --- | --- | --- | --- | --- |
| | | | | | 01 | 02 |
| 03 | 04 | 05 | 06 | 07 | 08 | 09 |
| 10 | 11 | 12 | 13 | 14 | 15 | 16 |
| 17 | 18 | 19 | 20 | 21 | 22 | 23 |
| 24 | 25 | 26 | 27 | 28 | 29 | 30 |
December , 2024
| Sun | Mon | Tue | Wed | Thu | Fri | Sat |
| --- | --- | --- | --- | --- | --- | --- |
| 01 | 02 | 03 | 04 | 05 | 06 | 07 |
| 08 | 09 | 10 | 11 | 12 | 13 | 14 |
| 15 | 16 | 17 | 18 | 19 | 20 | 21 |
| 22 | 23 | 24 | 25 | 26 | 27 | 28 |
| 29 | 30 | 31 | | | | |
January , 2025
| Sun | Mon | Tue | Wed | Thu | Fri | Sat |
| --- | --- | --- | --- | --- | --- | --- |
| | | | 01 | 02 | 03 | 04 |
| 05 | 06 | 07 | 08 | 09 | 10 | 11 |
| 12 | 13 | 14 | 15 | 16 | 17 | 18 |
| 19 | 20 | 21 | 22 | 23 | 24 | 25 |
| 26 | 27 | 28 | 29 | 30 | 31 | |
February , 2025
| Sun | Mon | Tue | Wed | Thu | Fri | Sat |
| --- | --- | --- | --- | --- | --- | --- |
| | | | | | | 01 |
| 02 | 03 | 04 | 05 | 06 | 07 | 08 |
| 09 | 10 | 11 | 12 | 13 | 14 | 15 |
| 16 | 17 | 18 | 19 | 20 | 21 | 22 |
| 23 | 24 | 25 | 26 | 27 | 28 | |
March , 2025
Sun
Mon
Tue
Wed
Thu
Fri
Sat
01
02
03
04
05
06
07
08
09
10
11
12
13
14
15
16
17
18
19
20
21
22
23
24
25
26
27
28
29
30
31
April , 2025
| Sun | Mon | Tue | Wed | Thu | Fri | Sat |
| --- | --- | --- | --- | --- | --- | --- |
| | | 01 | 02 | 03 | 04 | 05 |
| 06 | 07 | 08 | 09 | 10 | 11 | 12 |
| 13 | 14 | 15 | 16 | 17 | 18 | 19 |
| 20 | 21 | 22 | 23 | 24 | 25 | 26 |
| 27 | 28 | 29 | 30 | | | |
May , 2025
| Sun | Mon | Tue | Wed | Thu | Fri | Sat |
| --- | --- | --- | --- | --- | --- | --- |
| | | | | 01 | 02 | 03 |
| 04 | 05 | 06 | 07 | 08 | 09 | 10 |
| 11 | 12 | 13 | 14 | 15 | 16 | 17 |
| 18 | 19 | 20 | 21 | 22 | 23 | 24 |
| 25 | 26 | 27 | 28 | 29 | 30 | 31 |
Location
Porters ,St James, Barbados
• 2 minute drive from Holetown
• 45 minute drive from Grantley Adams International Airport
Other Properties you may like