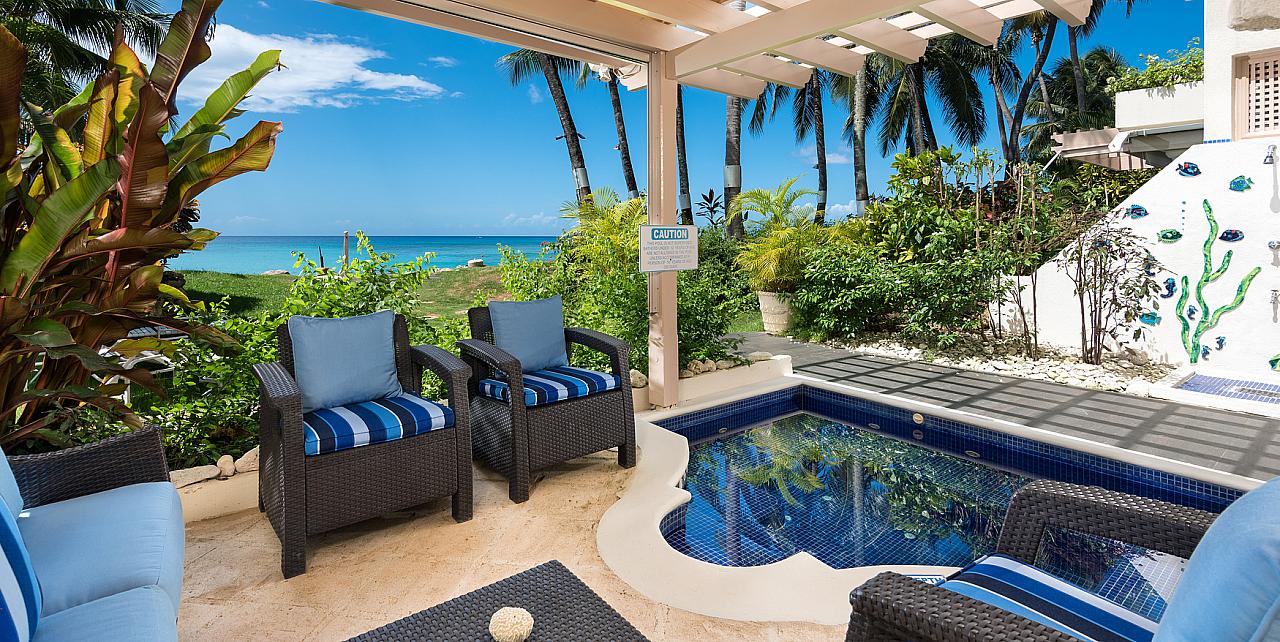 Add to Favourites
From $530 USD - $1,370 USD / nt
Plan Your Trip
HAVE QUESTIONS?
UK : 0845-017-6707
USA/CANADA: +1 347 707 1195
BARBADOS: +246-432-6307
INTERNATIONAL: +44 1978 368531
From $530 USD - $1,370 USD / nt
We love this villa because...
with a reef just off the beach it's perfect for snorkeling, you may even spot a turtle swimming by or see them from the roof top pool where the views are amazing and a perfect place to watch the sunset!
Reeds House Barbados offers luxury beachfront apartments with direct beach access on the West Coast, through a small private garden area and conveniently located for shops and restaurants. Reeds House Barbados offers the high standard of beachfront accommodation, the fixtures and fittings reflect comfort and luxury.
Reeds House Number One can be rented with the Penthouse suite to become a 4 bedroom residence with rooftop plunge pool and additional dining area. It occupies the entire south wing of the Reeds House complex with spectacular sundecks and sea views from most rooms on all floors. All bedrooms are air-conditioned there are Two plunge pools - one on ground floor and one on private roof top sun deck. There is a Wet bar & bar fridge on ground floor dining terrace and a Wet bar with Ice Machine on roof top deck.
Each of the bedrooms has twin beds which can me made into a king-bed, all have air-conditioning and ceiling fans. All rooms have en-suite bathrooms. Each bedroom has a wardrobe safe and has a Smart TV except bedroom
Layout of the apartments consists of :
Ground floor
Open plan layout with fully equipped kitchen, spacious living area with a Smart TV and flows out to a covered patio where there is a plunge pool, BBQ area and a garden path leading you straight down to the water's edge and the beach.
Bedroom 1 - Master bedroom - king bed, walk in closet, en-suite with a shower and a Jacuzzi bath and access to the patio through double French doors.
Second floor
Access is via a stairway from the patio – Bedrooms 2 and 3 are twin beds( which can be converted to a king ) , they have en suite bathrooms and ample closet space. There is an open plan living area with large screen television and a patio to take in the lovely sea views.
Third floor - (applies to 4 bedroom rental)
Large patio overlooking the sea – giving access to Bedroom 4 – king bed en-suite with Jacuzzi bath and shower, walk in closet. There is also another fully equipped kitchen and living/dining areas. Guests may also access these units via the main corridor of each floor allowing families to come and go as they please without imposing on the guests below or above.
Rooftop - (applies to 4 bedroom rental)
Sundeck with plunge pool – amazing views ! There is a BBQ area and sun loungers
Powder rooms available on both the ground and top floor.
Dining - ground floor covered dining area can seat up to 12 people - the roof top dining area can seat up to 8 people
Reeds House Barbados is located on the West Coast in Reeds Bay, St James, with the nearest hotel being Royal Pavilion and Speightstown is approximately 5 minutes' drive away. Golf and Tennis available approx 10 minutes' drive away at Sandy Lane Hotel and Royal Westmoreland.
Water-sports available on request on site
See more details...
Special Offer(s):
FREE NIGHT!
Get Summer started with one night free, when you stay 7-nights.
Book between 13th September – 31st October 2019 for stays up to 31st October 2019.
This offer is not combinable with other offers
Amenities
Air Conditioned bedrooms
Air Conditioning
BBQ
Beach Front
Cable TV
Car Parking on site
Car Recommended
CD Player
Ceiling Fans
DVD Player
Fully Equipped Kitchen
Hair Dryer
On site security
Plunge Pool
Safe
Satellite TV
Wireless Internet
See more details...
Bedroom : 3
Staff
• Security Guard on site (12 hour shift)
• Cook prepares two meals per day- either breakfast and lunch or lunch and dinner
When the villa is rented as a one or three bedrooms there will only be one member of staff to do cooking, cleaning and laundry.
Key Facts
• Beachfront with beach access via a small private garden
• Occupies the entire south wing of Reeds House with amazing roof top sea views
• Can be rented as 3 bedroom or 4 bedroom (with 1 bedroom penthouse)
• Children over 12 welcomed all others by special request
• Minutes from local restaurants
• Withing walking distance to Millie Ifill's fish market
• On site Concierge/Security
• Has cordoned off swimming area
Rate
Bedrooms: 3 Bedrooms

| From | To | Min Stay | Nightly Rate | Weekly Rate |
| --- | --- | --- | --- | --- |
| 15-Apr-2019 | 14-Dec-2019 | 5 | $530 USD | $3,710 USD |
| 15-Dec-2019 | 19-Dec-2019 | 5 | $1,005 USD | $7,035 USD |
| 20-Dec-2019 | 10-Jan-2020 | 10 | $1,370 USD | $9,590 USD |
| 11-Jan-2020 | 14-Apr-2020 | 5 | $1,005 USD | $7,035 USD |
| 15-Apr-2020 | 14-Dec-2020 | 5 | $530 USD | $3,710 USD |
Rental rates are subject to 11.50 % TAX plus any applicable service charge.
Rates, taxes and service charges are subject to change without notice.
Christmas and New Year rates may vary and will be advised at the time of enquiry.
Availability
October , 2019
| Sun | Mon | Tue | Wed | Thu | Fri | Sat |
| --- | --- | --- | --- | --- | --- | --- |
| | | 01 | 02 | 03 | 04 | 05 |
| 06 | 07 | 08 | 09 | 10 | 11 | 12 |
| 13 | 14 | 15 | 16 | 17 | 18 | 19 |
| 20 | 21 | 22 | 23 | 24 | 25 | 26 |
| 27 | 28 | 29 | 30 | 31 | | |
November , 2019
| Sun | Mon | Tue | Wed | Thu | Fri | Sat |
| --- | --- | --- | --- | --- | --- | --- |
| | | | | | 01 | 02 |
| 03 | 04 | 05 | 06 | 07 | 08 | 09 |
| 10 | 11 | 12 | 13 | 14 | 15 | 16 |
| 17 | 18 | 19 | 20 | 21 | 22 | 23 |
| 24 | 25 | 26 | 27 | 28 | 29 | 30 |
December , 2019
| Sun | Mon | Tue | Wed | Thu | Fri | Sat |
| --- | --- | --- | --- | --- | --- | --- |
| 01 | 02 | 03 | 04 | 05 | 06 | 07 |
| 08 | 09 | 10 | 11 | 12 | 13 | 14 |
| 15 | 16 | 17 | 18 | 19 | 20 | 21 |
| 22 | 23 | 24 | 25 | 26 | 27 | 28 |
| 29 | 30 | 31 | | | | |
January , 2020
| Sun | Mon | Tue | Wed | Thu | Fri | Sat |
| --- | --- | --- | --- | --- | --- | --- |
| | | | 01 | 02 | 03 | 04 |
| 05 | 06 | 07 | 08 | 09 | 10 | 11 |
| 12 | 13 | 14 | 15 | 16 | 17 | 18 |
| 19 | 20 | 21 | 22 | 23 | 24 | 25 |
| 26 | 27 | 28 | 29 | 30 | 31 | |
February , 2020
| Sun | Mon | Tue | Wed | Thu | Fri | Sat |
| --- | --- | --- | --- | --- | --- | --- |
| | | | | | | 01 |
| 02 | 03 | 04 | 05 | 06 | 07 | 08 |
| 09 | 10 | 11 | 12 | 13 | 14 | 15 |
| 16 | 17 | 18 | 19 | 20 | 21 | 22 |
| 23 | 24 | 25 | 26 | 27 | 28 | 29 |
March , 2020
| Sun | Mon | Tue | Wed | Thu | Fri | Sat |
| --- | --- | --- | --- | --- | --- | --- |
| 01 | 02 | 03 | 04 | 05 | 06 | 07 |
| 08 | 09 | 10 | 11 | 12 | 13 | 14 |
| 15 | 16 | 17 | 18 | 19 | 20 | 21 |
| 22 | 23 | 24 | 25 | 26 | 27 | 28 |
| 29 | 30 | 31 | | | | |
April , 2020
| Sun | Mon | Tue | Wed | Thu | Fri | Sat |
| --- | --- | --- | --- | --- | --- | --- |
| | | | 01 | 02 | 03 | 04 |
| 05 | 06 | 07 | 08 | 09 | 10 | 11 |
| 12 | 13 | 14 | 15 | 16 | 17 | 18 |
| 19 | 20 | 21 | 22 | 23 | 24 | 25 |
| 26 | 27 | 28 | 29 | 30 | | |
May , 2020
Sun
Mon
Tue
Wed
Thu
Fri
Sat
01
02
03
04
05
06
07
08
09
10
11
12
13
14
15
16
17
18
19
20
21
22
23
24
25
26
27
28
29
30
31
June , 2020
Sun
Mon
Tue
Wed
Thu
Fri
Sat
01
02
03
04
05
06
07
08
09
10
11
12
13
14
15
16
17
18
19
20
21
22
23
24
25
26
27
28
29
30
July , 2020
| Sun | Mon | Tue | Wed | Thu | Fri | Sat |
| --- | --- | --- | --- | --- | --- | --- |
| | | | 01 | 02 | 03 | 04 |
| 05 | 06 | 07 | 08 | 09 | 10 | 11 |
| 12 | 13 | 14 | 15 | 16 | 17 | 18 |
| 19 | 20 | 21 | 22 | 23 | 24 | 25 |
| 26 | 27 | 28 | 29 | 30 | 31 | |
August , 2020
| Sun | Mon | Tue | Wed | Thu | Fri | Sat |
| --- | --- | --- | --- | --- | --- | --- |
| | | | | | | 01 |
| 02 | 03 | 04 | 05 | 06 | 07 | 08 |
| 09 | 10 | 11 | 12 | 13 | 14 | 15 |
| 16 | 17 | 18 | 19 | 20 | 21 | 22 |
| 23 | 24 | 25 | 26 | 27 | 28 | 29 |
| 30 | 31 | | | | | |
September , 2020
| Sun | Mon | Tue | Wed | Thu | Fri | Sat |
| --- | --- | --- | --- | --- | --- | --- |
| | | 01 | 02 | 03 | 04 | 05 |
| 06 | 07 | 08 | 09 | 10 | 11 | 12 |
| 13 | 14 | 15 | 16 | 17 | 18 | 19 |
| 20 | 21 | 22 | 23 | 24 | 25 | 26 |
| 27 | 28 | 29 | 30 | | | |
October , 2020
| Sun | Mon | Tue | Wed | Thu | Fri | Sat |
| --- | --- | --- | --- | --- | --- | --- |
| | | | | 01 | 02 | 03 |
| 04 | 05 | 06 | 07 | 08 | 09 | 10 |
| 11 | 12 | 13 | 14 | 15 | 16 | 17 |
| 18 | 19 | 20 | 21 | 22 | 23 | 24 |
| 25 | 26 | 27 | 28 | 29 | 30 | 31 |
November , 2020
| Sun | Mon | Tue | Wed | Thu | Fri | Sat |
| --- | --- | --- | --- | --- | --- | --- |
| 01 | 02 | 03 | 04 | 05 | 06 | 07 |
| 08 | 09 | 10 | 11 | 12 | 13 | 14 |
| 15 | 16 | 17 | 18 | 19 | 20 | 21 |
| 22 | 23 | 24 | 25 | 26 | 27 | 28 |
| 29 | 30 | | | | | |
December , 2020
| Sun | Mon | Tue | Wed | Thu | Fri | Sat |
| --- | --- | --- | --- | --- | --- | --- |
| | | 01 | 02 | 03 | 04 | 05 |
| 06 | 07 | 08 | 09 | 10 | 11 | 12 |
| 13 | 14 | 15 | 16 | 17 | 18 | 19 |
| 20 | 21 | 22 | 23 | 24 | 25 | 26 |
| 27 | 28 | 29 | 30 | 31 | | |
January , 2021
Sun
Mon
Tue
Wed
Thu
Fri
Sat
01
02
03
04
05
06
07
08
09
10
11
12
13
14
15
16
17
18
19
20
21
22
23
24
25
26
27
28
29
30
31
February , 2021
| Sun | Mon | Tue | Wed | Thu | Fri | Sat |
| --- | --- | --- | --- | --- | --- | --- |
| 01 | 02 | 03 | 04 | 05 | 06 | 07 |
| 08 | 09 | 10 | 11 | 12 | 13 | 14 |
| 15 | 16 | 17 | 18 | 19 | 20 | 21 |
| 22 | 23 | 24 | 25 | 26 | 27 | 28 |
March , 2021
Sun
Mon
Tue
Wed
Thu
Fri
Sat
01
02
03
04
05
06
07
08
09
10
11
12
13
14
15
16
17
18
19
20
21
22
23
24
25
26
27
28
29
30
31
April , 2021
| Sun | Mon | Tue | Wed | Thu | Fri | Sat |
| --- | --- | --- | --- | --- | --- | --- |
| | | | | 01 | 02 | 03 |
| 04 | 05 | 06 | 07 | 08 | 09 | 10 |
| 11 | 12 | 13 | 14 | 15 | 16 | 17 |
| 18 | 19 | 20 | 21 | 22 | 23 | 24 |
| 25 | 26 | 27 | 28 | 29 | 30 | |
May , 2021
| Sun | Mon | Tue | Wed | Thu | Fri | Sat |
| --- | --- | --- | --- | --- | --- | --- |
| | | | | | | 01 |
| 02 | 03 | 04 | 05 | 06 | 07 | 08 |
| 09 | 10 | 11 | 12 | 13 | 14 | 15 |
| 16 | 17 | 18 | 19 | 20 | 21 | 22 |
| 23 | 24 | 25 | 26 | 27 | 28 | 29 |
| 30 | 31 | | | | | |
June , 2021
| Sun | Mon | Tue | Wed | Thu | Fri | Sat |
| --- | --- | --- | --- | --- | --- | --- |
| | | 01 | 02 | 03 | 04 | 05 |
| 06 | 07 | 08 | 09 | 10 | 11 | 12 |
| 13 | 14 | 15 | 16 | 17 | 18 | 19 |
| 20 | 21 | 22 | 23 | 24 | 25 | 26 |
| 27 | 28 | 29 | 30 | | | |
July , 2021
| Sun | Mon | Tue | Wed | Thu | Fri | Sat |
| --- | --- | --- | --- | --- | --- | --- |
| | | | | 01 | 02 | 03 |
| 04 | 05 | 06 | 07 | 08 | 09 | 10 |
| 11 | 12 | 13 | 14 | 15 | 16 | 17 |
| 18 | 19 | 20 | 21 | 22 | 23 | 24 |
| 25 | 26 | 27 | 28 | 29 | 30 | 31 |
August , 2021
| Sun | Mon | Tue | Wed | Thu | Fri | Sat |
| --- | --- | --- | --- | --- | --- | --- |
| 01 | 02 | 03 | 04 | 05 | 06 | 07 |
| 08 | 09 | 10 | 11 | 12 | 13 | 14 |
| 15 | 16 | 17 | 18 | 19 | 20 | 21 |
| 22 | 23 | 24 | 25 | 26 | 27 | 28 |
| 29 | 30 | 31 | | | | |
September , 2021
| Sun | Mon | Tue | Wed | Thu | Fri | Sat |
| --- | --- | --- | --- | --- | --- | --- |
| | | | 01 | 02 | 03 | 04 |
| 05 | 06 | 07 | 08 | 09 | 10 | 11 |
| 12 | 13 | 14 | 15 | 16 | 17 | 18 |
| 19 | 20 | 21 | 22 | 23 | 24 | 25 |
| 26 | 27 | 28 | 29 | 30 | | |
Policy
• Infants and children over 12 welcomed, under 12 on request only.
• No smoking permitted indoors
Location
Reeds House is located on the West Coast in Reeds Bay, St James, with the nearest hotel being Royal Pavilion and Speightstown is approximately 5 minutes' drive away. Golf and Tennis available approx 10 minutes' drive away at Sandy Lane Hotel and Royal Westmorel
Other Properties you may like