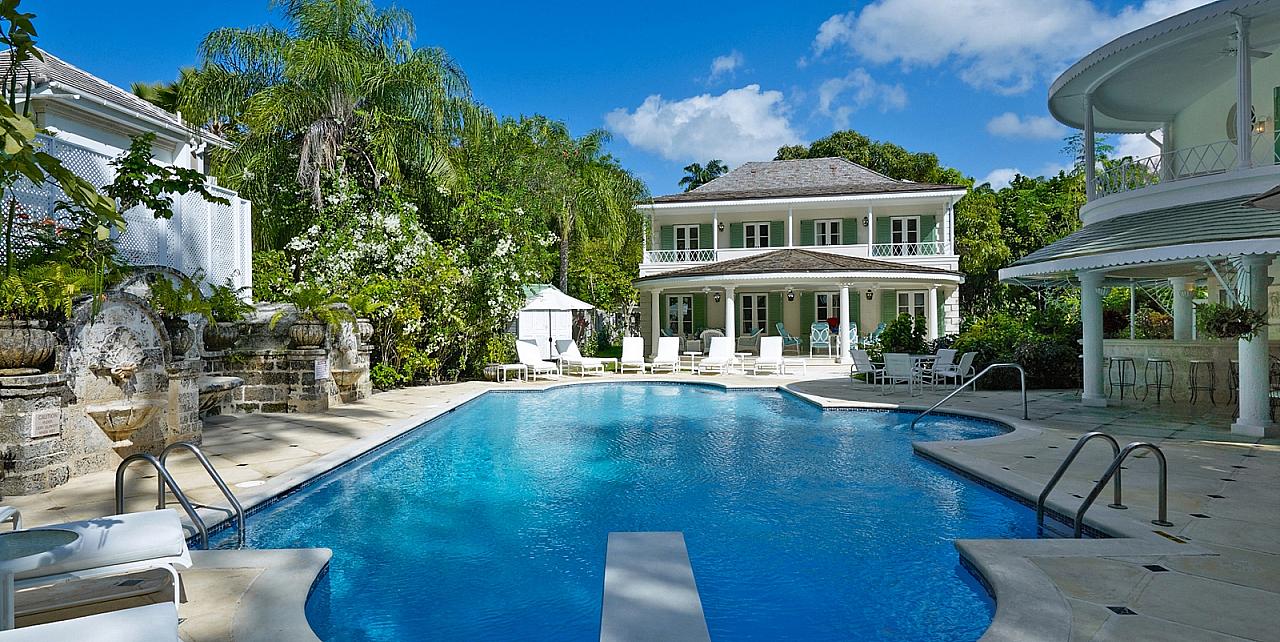 Add to Favourites
From $5,000 USD - $6,500 USD / nt
Plan Your Trip
HAVE QUESTIONS?
UK : 0845-017-6707
USA/CANADA: +1 347 707 1195
BARBADOS: +246-432-6307
INTERNATIONAL: +44 1978 368531
From $5,000 USD - $6,500 USD / nt
We love this villa because...
A dreamy 5 bed house and 3 bed cottage right on the beach in private tropical gardens Close to Holetown Delightful gazebo al fresco dining next to the beach Fabulous private swimming pool Butler, cook, 2 maids and laundress included in the rate
St Helena is a beautiful 5 bedroom villa. It has a stunning beachfront location on the calm clear waters of the west coast. It is also cloe to the historic Holetown. There are plenty of fine dining restaurants, beach bars and shopping opportunities just a stone's throw away.
St Helena has a charming 3 bedroom cottage in the grounds. This was recenty refurbished and is beautifully decorated with modern en suite bathrooms and air-conditioning.
St Helena and its cottage can accommodate up to 16 guests. It may, however be rented on a 5 to 8 bedroom basis (price adjusted accordingly).
It comes with butler, cook, 2 maids and a laundress who will look after your every need.
There are few beach front villas in a better location and grounds that St Helena.
St Helena Barbados is a grand, colonial style coral stone home. It is tastefully and elegantly furnished. St Helena was designed by the late Oliver Messel. Its most recent renovations were completed by renowned local architect Larry Warren.
As you enter St Helena on the ground level there are two attractive sitting areas. These lead out onto a covered dining terrace. The terrace overlooks the lovely tropical gardens.
Two of the five ensuite bedrooms are downstairs.
There is a wonderfully large private swimming pool. It has a spacious pool deck, bar and al fresco dining area.
The pool deck is partly covered and features beautiful fountains carved from the Island's natural coral stone. There is also a spa pool which is nestled within the gardens ensuring privacy.
The other 3 bedrooms are situated upstairs. These bedrooms lead out on to a semi-circular terrace which overlooks the lush gardens and the Caribbean Sea beyond. This is a spacious relaxing area with bar. The perfect spotfrom which to enjoy sunset cocktails or simply relax with a good book.
The grounds at St Helena have plenty of areas to sit, relax or dine. There is a romantic alfresco dining gazebo close to the beach entrance. There are also some unique features such as a lily pond. There is even an aviary which houses 250 homing budgerigars.
The 3 bedroom cottage at St Helena has 2 bedrooms upstairs. Both have en suite bathrooms. The third bedroom is downstairs. There is also a sitting room and kitchenette downstairs. The cottage has an extensive terrace which overlooks the pool! It is tastefully and comfortably furnished.
For further guests enjoyment the villa rental includes water-sports with boat and toys for an hour each day
If you are interested in renting Villa St Helena contact us today
For long term rentals in Barbados visit longtermrentalsbarbados.com
For property to buy in Barbados visit barbadosdreamproperties.com
See more details...
Amenities
Air Conditioned bedrooms
Bar
BBQ
Beach Front
Cable TV
CD Player
Ceiling Fans
Complimentary Concierge Service
DVD Player
Fax Machine
Gated Development
Gazebo
Outdoor Jacuzzi
Private Pool
Safe
Telephone
Washing Machine
Wireless Internet
See more details...
The villa rental includes an hour of water-sports with boat and toys for an hour each day
Bedroom : 5 - 8
Bathroom : 8
Staff
Your Butler is Rawle, and your housekeepers are Florette & Alison. Your Cook is Erlene, and the gardeners are Kenrick & Emerson. You may also notice Frank around the property. He is the Security Guard. The Butler, housekeepers and cook work a split shift with one day off, and the gardeners leave at 3:00pm.
Rate
Bedrooms: 5 Bedrooms

| From | To | Min Stay | Nightly Rate | Weekly Rate |
| --- | --- | --- | --- | --- |
| 11-Jan-2020 | 14-Apr-2020 | 7 | $5,000 USD | $35,000 USD |
Bedrooms: 8 Bedrooms

| From | To | Min Stay | Nightly Rate | Weekly Rate |
| --- | --- | --- | --- | --- |
| 11-Jan-2020 | 14-Apr-2020 | 7 | $6,500 USD | $45,500 USD |
Rental rates are subject to 10.00 % TAX plus 1.50 % service charge.
Rates, taxes and service charges are subject to change without notice.
Christmas and New Year rates may vary and will be advised at the time of enquiry.
Availability
January , 2020
| Sun | Mon | Tue | Wed | Thu | Fri | Sat |
| --- | --- | --- | --- | --- | --- | --- |
| | | | 01 | 02 | 03 | 04 |
| 05 | 06 | 07 | 08 | 09 | 10 | 11 |
| 12 | 13 | 14 | 15 | 16 | 17 | 18 |
| 19 | 20 | 21 | 22 | 23 | 24 | 25 |
| 26 | 27 | 28 | 29 | 30 | 31 | |
February , 2020
| Sun | Mon | Tue | Wed | Thu | Fri | Sat |
| --- | --- | --- | --- | --- | --- | --- |
| | | | | | | 01 |
| 02 | 03 | 04 | 05 | 06 | 07 | 08 |
| 09 | 10 | 11 | 12 | 13 | 14 | 15 |
| 16 | 17 | 18 | 19 | 20 | 21 | 22 |
| 23 | 24 | 25 | 26 | 27 | 28 | 29 |
March , 2020
| Sun | Mon | Tue | Wed | Thu | Fri | Sat |
| --- | --- | --- | --- | --- | --- | --- |
| 01 | 02 | 03 | 04 | 05 | 06 | 07 |
| 08 | 09 | 10 | 11 | 12 | 13 | 14 |
| 15 | 16 | 17 | 18 | 19 | 20 | 21 |
| 22 | 23 | 24 | 25 | 26 | 27 | 28 |
| 29 | 30 | 31 | | | | |
April , 2020
| Sun | Mon | Tue | Wed | Thu | Fri | Sat |
| --- | --- | --- | --- | --- | --- | --- |
| | | | 01 | 02 | 03 | 04 |
| 05 | 06 | 07 | 08 | 09 | 10 | 11 |
| 12 | 13 | 14 | 15 | 16 | 17 | 18 |
| 19 | 20 | 21 | 22 | 23 | 24 | 25 |
| 26 | 27 | 28 | 29 | 30 | | |
May , 2020
Sun
Mon
Tue
Wed
Thu
Fri
Sat
01
02
03
04
05
06
07
08
09
10
11
12
13
14
15
16
17
18
19
20
21
22
23
24
25
26
27
28
29
30
31
June , 2020
Sun
Mon
Tue
Wed
Thu
Fri
Sat
01
02
03
04
05
06
07
08
09
10
11
12
13
14
15
16
17
18
19
20
21
22
23
24
25
26
27
28
29
30
July , 2020
| Sun | Mon | Tue | Wed | Thu | Fri | Sat |
| --- | --- | --- | --- | --- | --- | --- |
| | | | 01 | 02 | 03 | 04 |
| 05 | 06 | 07 | 08 | 09 | 10 | 11 |
| 12 | 13 | 14 | 15 | 16 | 17 | 18 |
| 19 | 20 | 21 | 22 | 23 | 24 | 25 |
| 26 | 27 | 28 | 29 | 30 | 31 | |
August , 2020
| Sun | Mon | Tue | Wed | Thu | Fri | Sat |
| --- | --- | --- | --- | --- | --- | --- |
| | | | | | | 01 |
| 02 | 03 | 04 | 05 | 06 | 07 | 08 |
| 09 | 10 | 11 | 12 | 13 | 14 | 15 |
| 16 | 17 | 18 | 19 | 20 | 21 | 22 |
| 23 | 24 | 25 | 26 | 27 | 28 | 29 |
| 30 | 31 | | | | | |
September , 2020
| Sun | Mon | Tue | Wed | Thu | Fri | Sat |
| --- | --- | --- | --- | --- | --- | --- |
| | | 01 | 02 | 03 | 04 | 05 |
| 06 | 07 | 08 | 09 | 10 | 11 | 12 |
| 13 | 14 | 15 | 16 | 17 | 18 | 19 |
| 20 | 21 | 22 | 23 | 24 | 25 | 26 |
| 27 | 28 | 29 | 30 | | | |
October , 2020
| Sun | Mon | Tue | Wed | Thu | Fri | Sat |
| --- | --- | --- | --- | --- | --- | --- |
| | | | | 01 | 02 | 03 |
| 04 | 05 | 06 | 07 | 08 | 09 | 10 |
| 11 | 12 | 13 | 14 | 15 | 16 | 17 |
| 18 | 19 | 20 | 21 | 22 | 23 | 24 |
| 25 | 26 | 27 | 28 | 29 | 30 | 31 |
November , 2020
| Sun | Mon | Tue | Wed | Thu | Fri | Sat |
| --- | --- | --- | --- | --- | --- | --- |
| 01 | 02 | 03 | 04 | 05 | 06 | 07 |
| 08 | 09 | 10 | 11 | 12 | 13 | 14 |
| 15 | 16 | 17 | 18 | 19 | 20 | 21 |
| 22 | 23 | 24 | 25 | 26 | 27 | 28 |
| 29 | 30 | | | | | |
December , 2020
| Sun | Mon | Tue | Wed | Thu | Fri | Sat |
| --- | --- | --- | --- | --- | --- | --- |
| | | 01 | 02 | 03 | 04 | 05 |
| 06 | 07 | 08 | 09 | 10 | 11 | 12 |
| 13 | 14 | 15 | 16 | 17 | 18 | 19 |
| 20 | 21 | 22 | 23 | 24 | 25 | 26 |
| 27 | 28 | 29 | 30 | 31 | | |
January , 2021
Sun
Mon
Tue
Wed
Thu
Fri
Sat
01
02
03
04
05
06
07
08
09
10
11
12
13
14
15
16
17
18
19
20
21
22
23
24
25
26
27
28
29
30
31
February , 2021
| Sun | Mon | Tue | Wed | Thu | Fri | Sat |
| --- | --- | --- | --- | --- | --- | --- |
| 01 | 02 | 03 | 04 | 05 | 06 | 07 |
| 08 | 09 | 10 | 11 | 12 | 13 | 14 |
| 15 | 16 | 17 | 18 | 19 | 20 | 21 |
| 22 | 23 | 24 | 25 | 26 | 27 | 28 |
March , 2021
Sun
Mon
Tue
Wed
Thu
Fri
Sat
01
02
03
04
05
06
07
08
09
10
11
12
13
14
15
16
17
18
19
20
21
22
23
24
25
26
27
28
29
30
31
April , 2021
| Sun | Mon | Tue | Wed | Thu | Fri | Sat |
| --- | --- | --- | --- | --- | --- | --- |
| | | | | 01 | 02 | 03 |
| 04 | 05 | 06 | 07 | 08 | 09 | 10 |
| 11 | 12 | 13 | 14 | 15 | 16 | 17 |
| 18 | 19 | 20 | 21 | 22 | 23 | 24 |
| 25 | 26 | 27 | 28 | 29 | 30 | |
May , 2021
| Sun | Mon | Tue | Wed | Thu | Fri | Sat |
| --- | --- | --- | --- | --- | --- | --- |
| | | | | | | 01 |
| 02 | 03 | 04 | 05 | 06 | 07 | 08 |
| 09 | 10 | 11 | 12 | 13 | 14 | 15 |
| 16 | 17 | 18 | 19 | 20 | 21 | 22 |
| 23 | 24 | 25 | 26 | 27 | 28 | 29 |
| 30 | 31 | | | | | |
June , 2021
| Sun | Mon | Tue | Wed | Thu | Fri | Sat |
| --- | --- | --- | --- | --- | --- | --- |
| | | 01 | 02 | 03 | 04 | 05 |
| 06 | 07 | 08 | 09 | 10 | 11 | 12 |
| 13 | 14 | 15 | 16 | 17 | 18 | 19 |
| 20 | 21 | 22 | 23 | 24 | 25 | 26 |
| 27 | 28 | 29 | 30 | | | |
July , 2021
| Sun | Mon | Tue | Wed | Thu | Fri | Sat |
| --- | --- | --- | --- | --- | --- | --- |
| | | | | 01 | 02 | 03 |
| 04 | 05 | 06 | 07 | 08 | 09 | 10 |
| 11 | 12 | 13 | 14 | 15 | 16 | 17 |
| 18 | 19 | 20 | 21 | 22 | 23 | 24 |
| 25 | 26 | 27 | 28 | 29 | 30 | 31 |
August , 2021
| Sun | Mon | Tue | Wed | Thu | Fri | Sat |
| --- | --- | --- | --- | --- | --- | --- |
| 01 | 02 | 03 | 04 | 05 | 06 | 07 |
| 08 | 09 | 10 | 11 | 12 | 13 | 14 |
| 15 | 16 | 17 | 18 | 19 | 20 | 21 |
| 22 | 23 | 24 | 25 | 26 | 27 | 28 |
| 29 | 30 | 31 | | | | |
September , 2021
| Sun | Mon | Tue | Wed | Thu | Fri | Sat |
| --- | --- | --- | --- | --- | --- | --- |
| | | | 01 | 02 | 03 | 04 |
| 05 | 06 | 07 | 08 | 09 | 10 | 11 |
| 12 | 13 | 14 | 15 | 16 | 17 | 18 |
| 19 | 20 | 21 | 22 | 23 | 24 | 25 |
| 26 | 27 | 28 | 29 | 30 | | |
October , 2021
Sun
Mon
Tue
Wed
Thu
Fri
Sat
01
02
03
04
05
06
07
08
09
10
11
12
13
14
15
16
17
18
19
20
21
22
23
24
25
26
27
28
29
30
31
November , 2021
Sun
Mon
Tue
Wed
Thu
Fri
Sat
01
02
03
04
05
06
07
08
09
10
11
12
13
14
15
16
17
18
19
20
21
22
23
24
25
26
27
28
29
30
December , 2021
| Sun | Mon | Tue | Wed | Thu | Fri | Sat |
| --- | --- | --- | --- | --- | --- | --- |
| | | | 01 | 02 | 03 | 04 |
| 05 | 06 | 07 | 08 | 09 | 10 | 11 |
| 12 | 13 | 14 | 15 | 16 | 17 | 18 |
| 19 | 20 | 21 | 22 | 23 | 24 | 25 |
| 26 | 27 | 28 | 29 | 30 | 31 | |
Location
Old Queens Fort, St James
• 2 minute drive to Holetown
• 45 minute drive to Grantley Adams International Airport
Reviews from past guests:
St Helena fits every single need for 7 couples. The location is perfect if you want a nice quiet area - Holetown is a quaint with nice little and big stores and is far away from cruise ship traffic which comes to Bridgetown. St Helena is well appointed and the staff is awesome. The food they prepared was fantastic. We ate at the Cliff's restaurant - HIGHLY recommend it and a day on the Cat and the Fiddle Catamaran. St Helena is right on the beach and a huge swimming pool on property, lots of wildlife on the beach - we saw baby turtles hatching and it was amazing. There is a bird sanctuary on property too. We hope to return next year. The south side of the island has more hotels, bars, etc, but that's not for us who just wanted to hang out. Celeste at Dream Villas arranged everything. EXCELLENT choice of property
---
Other Properties you may like