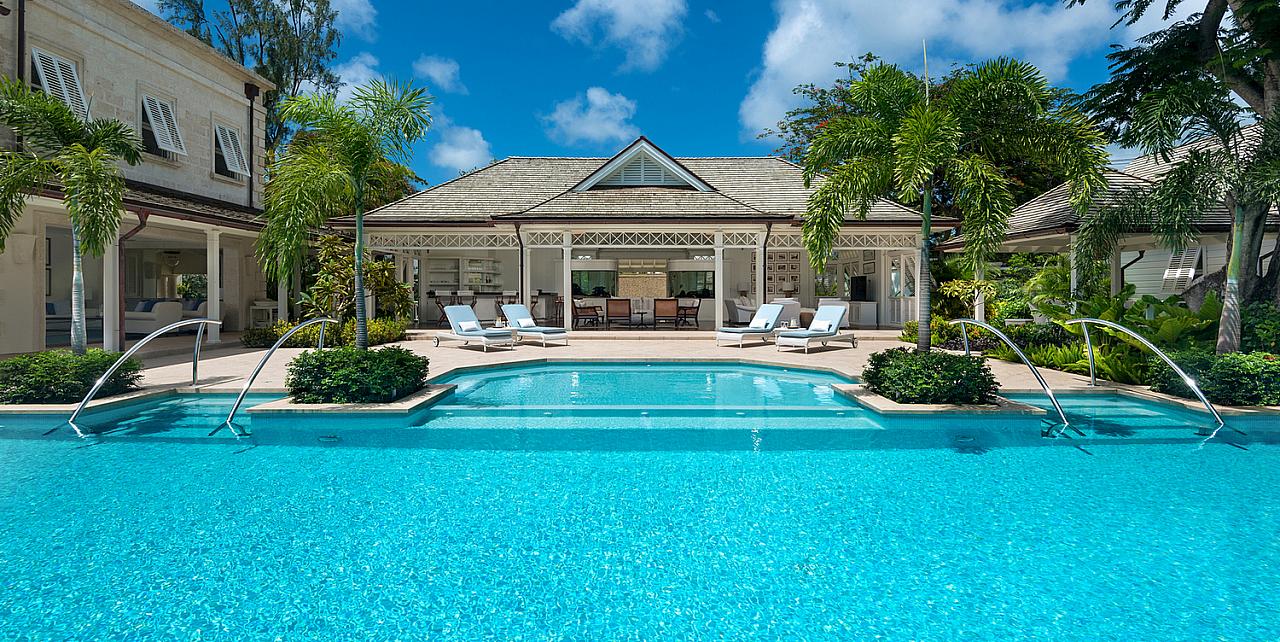 Beachfront - The Great House
Add to Favourites
From $11,000 USD - $20,000 USD / nt
Plan Your Trip
HAVE QUESTIONS?
USA/CANADA: +1 347 707 1195
BARBADOS: +246-432-6307
UK / INTERNATIONAL: +44 1978 368531
From $11,000 USD - $20,000 USD / nt
We love this villa because...
it is in a wonderful beach front location set in private lush tropical gardens. It has recently has extensive renovation and redesign. 12 bedrooms, private pool, tennis court, gym and spa Boat and boatman included The team of staff run this villa like clockwork. Excellent chefs will whisk up divine breakfasts, lunches and dinners.
The Great House offers the ideal beachfront accommodation on the west coast of Barbados. It has 12 double bedroom suites and with the right configuration for families with children it can accommodate up to 30 guests. This superb, modernised West Indian style plantation house is nestled amongst swaying palm trees on the beachfront in the parish of St Peter. It has its own large private swimming pool.
The Great House has recently undergone an extensive renovation. With its new yet classical bathrooms and bedrooms it is now one of the most exclusive properties beachfront in the Caribbean. The gardens extend to around two and a half acres.
The Great House may be rented on an 8 to 12 bedroom basis (with price adjusted accordingly).
This home has had the most sympathetic of renovations. Notwithstanding the size of the estate and extensive bedrooms and living areas, the designers have managed to retain that cosy, comfortable feeling of a home. When you arrive you will be enchanted by the peace and serenity of this calming beach front home.
The Great House has been designed and decorated in classic Barbadian colonial style with influences from the best of Europe and North America.
The main accommodation is within a 2 storey coral-stone main house. This has 3 double bedroom suites on the upper level and 1 bedroom suite on the lower level. There are sea views from the 3 upper bedrooms.
There is a Carriage House adjacent to the main house. This offers an additional 3 double suites (with 2 niches for use as single beds) and a large room downstairs which accommodates 4 beds. A massage room in the Carriage House may be used as an extra bedroom if necessary.
A pathway from the main house provides access to the two chattel houses. Each chattel house has 2 bedrooms which can be adjoining making them ideal for families staying wanting to be together. The chattel houses have airy pitched ceilings. All have en-suite bathrooms, dressing rooms, air-conditioning and ceiling fans.
One of the chattel houses is 2 storey and has a niche which can accommodate a single bed if required. The bedrooms in the chattel houses are simply enchanting. Furnished in a simple yet elegant fashion the feeling in each chattel house is one of a quiet retreat. Each chattel house offers guests a sanctuary for peace and relaxation.
There are 12 air-conditioned bedrooms overall. The estate comfortably accommodates 24 guests and with the right configuration can accommodate up to 30 guests.
No expense has been spared in creating this sanctuary. It exceeds all expectations. The very best architects and Interior designers have been employed and have created this truly magnificent retreat.
The extensive matured gardens contain intimate areas in which to relax and enjoy the beauty of the estate. Find a quiet corner and enjoy the sight and sound of the turquoise Caribbean Sea.
The estate offers a private tennis court, state of the art gym, spa treatment and massage room and games room. There is also a conference room, media room, swimming pool and a private beach bar right by the water's edge.
The Great House comprises two sites which are opposite each other. The seaside property houses guests in spacious comfort. It provides numerous areas for formal and informal dining and poolside or seaside relaxation.
Across the road, the landside provides areas for fun and entertainment. There is an expansive games room, TV theatre and spa, gym. There is also a conference room and US Open style tennis court with night lighting. The gardens are filled with lily ponds, lawns and lush tropical plants. There are four full time security staff and a closed perimeter. This ensures that guests enjoy the utmost privacy.
There is a speed boat with boatman so guests may enjoy the Caribbean Sea and see Barbados from a different perspective. Is there anything better than a day on the water in the Caribbean?
Instead of charging for food and beverage items individually, The Great House will implement a daily charge of US$150 per person. This will include all meals, non alcoholic beverages and will simplify invoicing for guests. Children under the age of 7 will be complimentary.
The food at The Great House has always been and continues to be of the highest gourmet standards. No need to go out. Just relax and enjoy the wonderful culinary delights in one of the many dining areas. Sit back and be pampered by the unobtrusive, caring staff.
The Great House has always been a favourite villa in Barbados for the rich and famous. Guests check in and never want to leave!
The manicured gardens provide many choices for dining. There are gazebos for afternoon tea, sunset cocktails or for dining by candlelight. There is also a more formal dining area to accommodate guests.
The sea lapping against the shore of the golden beach in front of the estate is so close you can reach out and almost touch it!
We consider The Great House to be one of the biggest and possibly the very best villa in Barbados.
Staying here guests will enjoy the privacy of a private villa with extensive grounds and the services of a 5 star hotel.
The unobtrusive team of staff will look after your guests' every need. Wonderful chefs, house manager, butlers, housekeepers and laundresses.
Just a stroll through the garden leads to the calm blue waters of the Caribbean Sea and the beautiful white sandy beach. From here guests may use the services of the beautiful pleasure boat (guests just pay for the fuel they use). This comes with skipper and is available daily from 9am - 5pm.
Guests may enjoy a variety of water-sports such as water skiing, wakeboarding and inflatables. If watersports are not for you just enjoy the Barbados west coast from the water on this luxury speed boat. The skipper will be happy to take guests to other beaches to enjoy a relaxing picnic, swim with the turtles or to lunch at a beachfront restaurant. The choices are yours!
If you are interested in renting The Great House in Barbados contact us today
For other luxury villa holidays in Barbados visit barbadosdreamvillas.com
For long term rentals in Barbados visit longtermrentalsbarbados.com
For properties to buy in Barbados visit barbadosdreamproperties.com
See more details...
Amenities
Air Conditioning
Alarm
Approved Status for Quarantine
Bar
BBQ
Beach Front
Boat with driver
Car Parking on site
Car Recommended
Ceiling Fans
Cinema
Fully Equipped Kitchen
Games Room
Gated Development
Gym/Fitness Room
Hair Dryer
Jacuzzi
Laundry Room
Library
Media Room
Pool Table
Private Pool
Satellite TV
Security System
Small Boat
Table Tennis
Telephone
Tennis Court
TV
WaterSports
Wireless Internet
See more details...
Bedroom : 8 - 12
Main Great House
Upper Floor
North Suite - King
Centre Suite - 2 Singles/King
South Suite - King
Lower floor
Garden Suite - King
North Cottage - 2 Singles / King
South Cottage - 2 Singles/King
Hillaby House
Garden Suite - 4 Poster King plus King size sofa bed
Upper Suite - 4 Poster King
Carriage House
Ground Floor
West Garden Suite - 2 Singles/ King plus 1 single size bed in the window niche
Centre Garden - 2 Singles/ King plus 1 single size bed in the window niche
East Garden Suite - King size bed
Upper Floor
" The Dorm" - 4 singles or 2 Kings or 1 King 2 singles
Bathroom : 8 - 12
Staff
Staff:
• 1 Property Director
• 1 Villa Manager
• 4 Butlers
• 4 Housekeepers
• 2 Laundry
• 2 Chefs
• 1 Kitchen Assistant
• 4 Gardeners
• 4 Security
• 1 Boat Captain
On Request:
• Baby Sitting
• Nanny Service
Nothing is too much trouble for the management and staff to organise for the perfect holiday in Barbados.
Rate
Bedrooms: 8 Bedrooms

| From | To | Min Stay | Nightly Rate | Weekly Rate |
| --- | --- | --- | --- | --- |
| 11-Jan-2023 | 30-Apr-2023 | 7 | $16,000 USD | $112,000 USD |
| 01-May-2023 | 14-Dec-2023 | 7 | $11,000 USD | $77,000 USD |
Bedrooms: 10 Bedrooms

| From | To | Min Stay | Nightly Rate | Weekly Rate |
| --- | --- | --- | --- | --- |
| 11-Jan-2023 | 30-Apr-2023 | 7 | $18,000 USD | $126,000 USD |
| 01-May-2023 | 14-Dec-2023 | 7 | $13,000 USD | $91,000 USD |
Bedrooms: 12 Bedrooms

| From | To | Min Stay | Nightly Rate | Weekly Rate |
| --- | --- | --- | --- | --- |
| 11-Jan-2023 | 30-Apr-2023 | 7 | $20,000 USD | $140,000 USD |
| 01-May-2023 | 14-Dec-2023 | 7 | $15,000 USD | $105,000 USD |
Rental rates are subject to 10.00 % TAX plus 0.00 % service charge.
Rates include accommodation for up to 30 guests, Complimentary food & beverage for children under the age of 13, Butler, daily housekeeping and laundry services, Gym, 33ft luxury motor boat, speedboat, water-sports, tennis court, video conference room, home cinema, security and high speed wifi.
Rates exclude daily rate of US$150 per guest for all food and non-alcoholic beverages.
Alcohol, transportation, external services, gratuities and Government taxes are also additional.
Rates, taxes and service charges are subject to change without notice.
Christmas and New Year rates may vary and will be advised at the time of enquiry.
Availability
(Please use as a guide only as availability is subject to change)
February , 2023
| Sun | Mon | Tue | Wed | Thu | Fri | Sat |
| --- | --- | --- | --- | --- | --- | --- |
| | | | 01 | 02 | 03 | 04 |
| 05 | 06 | 07 | 08 | 09 | 10 | 11 |
| 12 | 13 | 14 | 15 | 16 | 17 | 18 |
| 19 | 20 | 21 | 22 | 23 | 24 | 25 |
| 26 | 27 | 28 | | | | |
March , 2023
| Sun | Mon | Tue | Wed | Thu | Fri | Sat |
| --- | --- | --- | --- | --- | --- | --- |
| | | | 01 | 02 | 03 | 04 |
| 05 | 06 | 07 | 08 | 09 | 10 | 11 |
| 12 | 13 | 14 | 15 | 16 | 17 | 18 |
| 19 | 20 | 21 | 22 | 23 | 24 | 25 |
| 26 | 27 | 28 | 29 | 30 | 31 | |
April , 2023
| Sun | Mon | Tue | Wed | Thu | Fri | Sat |
| --- | --- | --- | --- | --- | --- | --- |
| | | | | | | 01 |
| 02 | 03 | 04 | 05 | 06 | 07 | 08 |
| 09 | 10 | 11 | 12 | 13 | 14 | 15 |
| 16 | 17 | 18 | 19 | 20 | 21 | 22 |
| 23 | 24 | 25 | 26 | 27 | 28 | 29 |
| 30 | | | | | | |
May , 2023
| Sun | Mon | Tue | Wed | Thu | Fri | Sat |
| --- | --- | --- | --- | --- | --- | --- |
| | 01 | 02 | 03 | 04 | 05 | 06 |
| 07 | 08 | 09 | 10 | 11 | 12 | 13 |
| 14 | 15 | 16 | 17 | 18 | 19 | 20 |
| 21 | 22 | 23 | 24 | 25 | 26 | 27 |
| 28 | 29 | 30 | 31 | | | |
June , 2023
| Sun | Mon | Tue | Wed | Thu | Fri | Sat |
| --- | --- | --- | --- | --- | --- | --- |
| | | | | 01 | 02 | 03 |
| 04 | 05 | 06 | 07 | 08 | 09 | 10 |
| 11 | 12 | 13 | 14 | 15 | 16 | 17 |
| 18 | 19 | 20 | 21 | 22 | 23 | 24 |
| 25 | 26 | 27 | 28 | 29 | 30 | |
July , 2023
Sun
Mon
Tue
Wed
Thu
Fri
Sat
01
02
03
04
05
06
07
08
09
10
11
12
13
14
15
16
17
18
19
20
21
22
23
24
25
26
27
28
29
30
31
August , 2023
| Sun | Mon | Tue | Wed | Thu | Fri | Sat |
| --- | --- | --- | --- | --- | --- | --- |
| | | 01 | 02 | 03 | 04 | 05 |
| 06 | 07 | 08 | 09 | 10 | 11 | 12 |
| 13 | 14 | 15 | 16 | 17 | 18 | 19 |
| 20 | 21 | 22 | 23 | 24 | 25 | 26 |
| 27 | 28 | 29 | 30 | 31 | | |
September , 2023
| Sun | Mon | Tue | Wed | Thu | Fri | Sat |
| --- | --- | --- | --- | --- | --- | --- |
| | | | | | 01 | 02 |
| 03 | 04 | 05 | 06 | 07 | 08 | 09 |
| 10 | 11 | 12 | 13 | 14 | 15 | 16 |
| 17 | 18 | 19 | 20 | 21 | 22 | 23 |
| 24 | 25 | 26 | 27 | 28 | 29 | 30 |
October , 2023
| Sun | Mon | Tue | Wed | Thu | Fri | Sat |
| --- | --- | --- | --- | --- | --- | --- |
| 01 | 02 | 03 | 04 | 05 | 06 | 07 |
| 08 | 09 | 10 | 11 | 12 | 13 | 14 |
| 15 | 16 | 17 | 18 | 19 | 20 | 21 |
| 22 | 23 | 24 | 25 | 26 | 27 | 28 |
| 29 | 30 | 31 | | | | |
November , 2023
| Sun | Mon | Tue | Wed | Thu | Fri | Sat |
| --- | --- | --- | --- | --- | --- | --- |
| | | | 01 | 02 | 03 | 04 |
| 05 | 06 | 07 | 08 | 09 | 10 | 11 |
| 12 | 13 | 14 | 15 | 16 | 17 | 18 |
| 19 | 20 | 21 | 22 | 23 | 24 | 25 |
| 26 | 27 | 28 | 29 | 30 | | |
December , 2023
| Sun | Mon | Tue | Wed | Thu | Fri | Sat |
| --- | --- | --- | --- | --- | --- | --- |
| | | | | | 01 | 02 |
| 03 | 04 | 05 | 06 | 07 | 08 | 09 |
| 10 | 11 | 12 | 13 | 14 | 15 | 16 |
| 17 | 18 | 19 | 20 | 21 | 22 | 23 |
| 24 | 25 | 26 | 27 | 28 | 29 | 30 |
| 31 | | | | | | |
January , 2024
| Sun | Mon | Tue | Wed | Thu | Fri | Sat |
| --- | --- | --- | --- | --- | --- | --- |
| | 01 | 02 | 03 | 04 | 05 | 06 |
| 07 | 08 | 09 | 10 | 11 | 12 | 13 |
| 14 | 15 | 16 | 17 | 18 | 19 | 20 |
| 21 | 22 | 23 | 24 | 25 | 26 | 27 |
| 28 | 29 | 30 | 31 | | | |
February , 2024
| Sun | Mon | Tue | Wed | Thu | Fri | Sat |
| --- | --- | --- | --- | --- | --- | --- |
| | | | | 01 | 02 | 03 |
| 04 | 05 | 06 | 07 | 08 | 09 | 10 |
| 11 | 12 | 13 | 14 | 15 | 16 | 17 |
| 18 | 19 | 20 | 21 | 22 | 23 | 24 |
| 25 | 26 | 27 | 28 | 29 | | |
March , 2024
| Sun | Mon | Tue | Wed | Thu | Fri | Sat |
| --- | --- | --- | --- | --- | --- | --- |
| | | | | | 01 | 02 |
| 03 | 04 | 05 | 06 | 07 | 08 | 09 |
| 10 | 11 | 12 | 13 | 14 | 15 | 16 |
| 17 | 18 | 19 | 20 | 21 | 22 | 23 |
| 24 | 25 | 26 | 27 | 28 | 29 | 30 |
| 31 | | | | | | |
April , 2024
| Sun | Mon | Tue | Wed | Thu | Fri | Sat |
| --- | --- | --- | --- | --- | --- | --- |
| | 01 | 02 | 03 | 04 | 05 | 06 |
| 07 | 08 | 09 | 10 | 11 | 12 | 13 |
| 14 | 15 | 16 | 17 | 18 | 19 | 20 |
| 21 | 22 | 23 | 24 | 25 | 26 | 27 |
| 28 | 29 | 30 | | | | |
May , 2024
| Sun | Mon | Tue | Wed | Thu | Fri | Sat |
| --- | --- | --- | --- | --- | --- | --- |
| | | | 01 | 02 | 03 | 04 |
| 05 | 06 | 07 | 08 | 09 | 10 | 11 |
| 12 | 13 | 14 | 15 | 16 | 17 | 18 |
| 19 | 20 | 21 | 22 | 23 | 24 | 25 |
| 26 | 27 | 28 | 29 | 30 | 31 | |
June , 2024
| Sun | Mon | Tue | Wed | Thu | Fri | Sat |
| --- | --- | --- | --- | --- | --- | --- |
| | | | | | | 01 |
| 02 | 03 | 04 | 05 | 06 | 07 | 08 |
| 09 | 10 | 11 | 12 | 13 | 14 | 15 |
| 16 | 17 | 18 | 19 | 20 | 21 | 22 |
| 23 | 24 | 25 | 26 | 27 | 28 | 29 |
| 30 | | | | | | |
July , 2024
| Sun | Mon | Tue | Wed | Thu | Fri | Sat |
| --- | --- | --- | --- | --- | --- | --- |
| | 01 | 02 | 03 | 04 | 05 | 06 |
| 07 | 08 | 09 | 10 | 11 | 12 | 13 |
| 14 | 15 | 16 | 17 | 18 | 19 | 20 |
| 21 | 22 | 23 | 24 | 25 | 26 | 27 |
| 28 | 29 | 30 | 31 | | | |
August , 2024
| Sun | Mon | Tue | Wed | Thu | Fri | Sat |
| --- | --- | --- | --- | --- | --- | --- |
| | | | | 01 | 02 | 03 |
| 04 | 05 | 06 | 07 | 08 | 09 | 10 |
| 11 | 12 | 13 | 14 | 15 | 16 | 17 |
| 18 | 19 | 20 | 21 | 22 | 23 | 24 |
| 25 | 26 | 27 | 28 | 29 | 30 | 31 |
September , 2024
Sun
Mon
Tue
Wed
Thu
Fri
Sat
01
02
03
04
05
06
07
08
09
10
11
12
13
14
15
16
17
18
19
20
21
22
23
24
25
26
27
28
29
30
October , 2024
| Sun | Mon | Tue | Wed | Thu | Fri | Sat |
| --- | --- | --- | --- | --- | --- | --- |
| | | 01 | 02 | 03 | 04 | 05 |
| 06 | 07 | 08 | 09 | 10 | 11 | 12 |
| 13 | 14 | 15 | 16 | 17 | 18 | 19 |
| 20 | 21 | 22 | 23 | 24 | 25 | 26 |
| 27 | 28 | 29 | 30 | 31 | | |
November , 2024
| Sun | Mon | Tue | Wed | Thu | Fri | Sat |
| --- | --- | --- | --- | --- | --- | --- |
| | | | | | 01 | 02 |
| 03 | 04 | 05 | 06 | 07 | 08 | 09 |
| 10 | 11 | 12 | 13 | 14 | 15 | 16 |
| 17 | 18 | 19 | 20 | 21 | 22 | 23 |
| 24 | 25 | 26 | 27 | 28 | 29 | 30 |
December , 2024
| Sun | Mon | Tue | Wed | Thu | Fri | Sat |
| --- | --- | --- | --- | --- | --- | --- |
| 01 | 02 | 03 | 04 | 05 | 06 | 07 |
| 08 | 09 | 10 | 11 | 12 | 13 | 14 |
| 15 | 16 | 17 | 18 | 19 | 20 | 21 |
| 22 | 23 | 24 | 25 | 26 | 27 | 28 |
| 29 | 30 | 31 | | | | |
January , 2025
| Sun | Mon | Tue | Wed | Thu | Fri | Sat |
| --- | --- | --- | --- | --- | --- | --- |
| | | | 01 | 02 | 03 | 04 |
| 05 | 06 | 07 | 08 | 09 | 10 | 11 |
| 12 | 13 | 14 | 15 | 16 | 17 | 18 |
| 19 | 20 | 21 | 22 | 23 | 24 | 25 |
| 26 | 27 | 28 | 29 | 30 | 31 | |
Location
Turtle Beach, St Peter
• 5 minute drive to Speightstown
• 15 minute drive to Holetown in St James
• 55 minute drive from Grantley Adams International Airport
Other Properties you may like